Martin Firrell
British, born Paris France. 1963
Martin Firrell is a French public artist who stimulates debate in public space to catalyse social change. He uses language to engage directly with the public, provoking dialogue, usually about aspects of marginalisation, equality and equitable social organisation. The artist's reported aim is 'to make the world more humane'. His work has been summarised as 'art as debate'.
Curated by
Barbara Ulbrist + Christiane Kunz
Wikidata
Q6775431
The Question Mark Inside
Digital Projection, St Paul's Cathedral, London UK, 2008
Firrell put the question, 'What makes your life purposeful and meaningful?' to theologians, scientists, artists, atheists, humanists and the general public. The collected responses, from the domestic to the sexual to the sublime, were project onto the Dome, West Front and Whispering Gallery of St Paul's Cathedral to mark its 300th anniversary.
Power Is Always Temporary
Digital Projection, Royal Opera House UK, 2007
In an historic first, public art texts are projected onto the front cloth of the Royal Opera House before each act of Puccini's opera 'Tosca'. The artist reveals the opera-like but real-life experiences of jealousy, infidelity and violence in the lives of Ivy, Jeanne, Mary, Leonie, Rita and Isabelle, 6 women aged between 60 and 84.
Counter Culture Rising
12 Digital Billboards, UK, January to March 2020
The Counter Culture Rising series conveys a cinematic story of alien visitation, climate catastrophe and war, artificial intelligence, hippy philosophy and advanced states of consciousness as an antidote to troubled times.
Skin
4 Digital Posters, Clear Channel UK, October 2019
The Skin series was created by the artist in conversation with people from different ethnic backgrounds in celebration of Black History Month.
Union City
9 Digital Billboards, UK, July to August 2019
Based on conversations between the artist and Clare Short (Secretary of State for International Development 1997-2003), the Union City series explores the moral content of socialism.
Power and Gender (Women)
6 Digital Billboards, UK, January to March 2019
The Power and Gender series was developed in conversation with 5 women who have experience of power in business, political, or public life. The series examines the difference between the way women and men gain, hold and use power.
Six Feminist Pamphlets
London. MF Co. 2018
Six feminist texts on the nature of power, sexual abuse and social inequality, and the route to gender equality.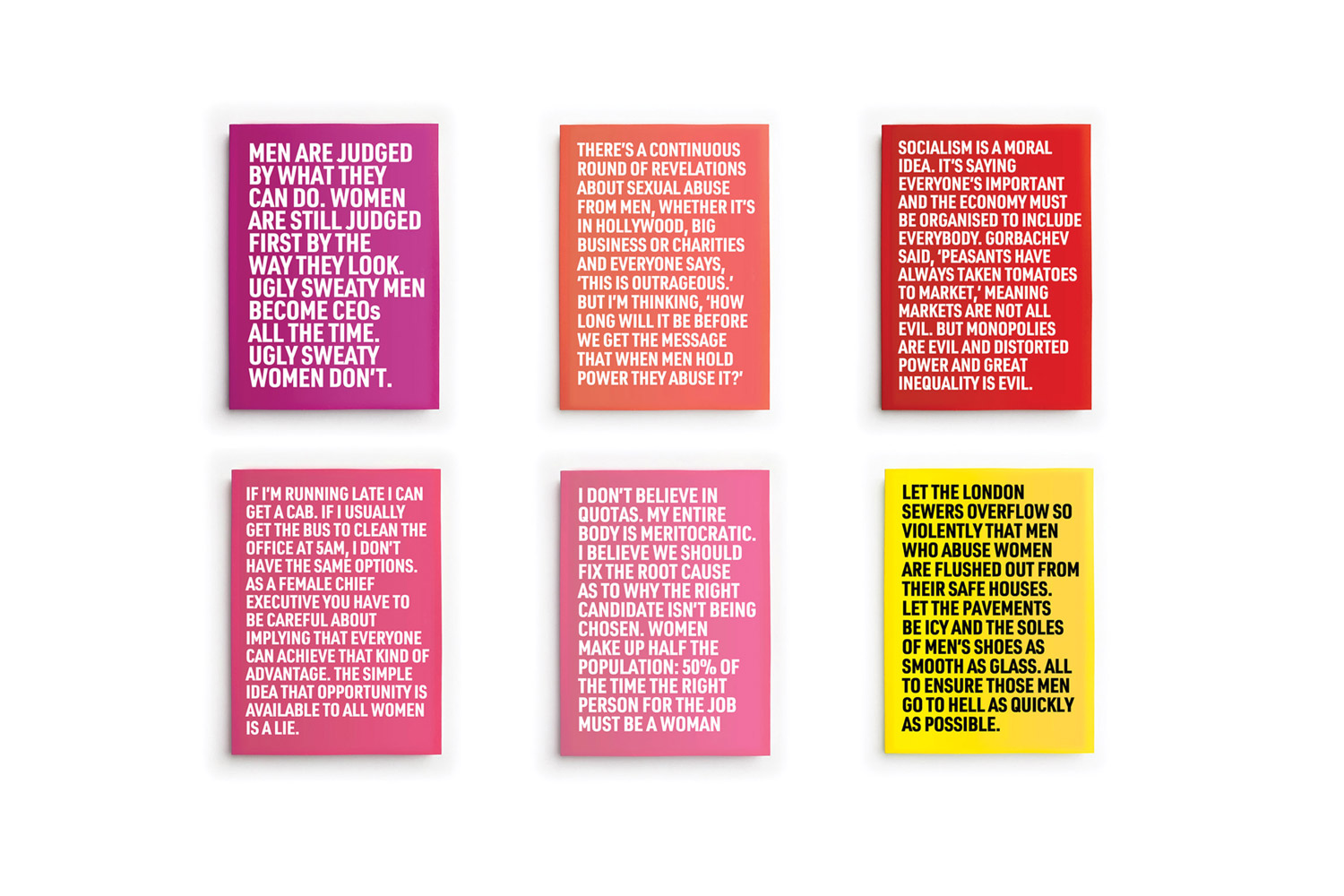 Power and Gender (Men)
6 Digital Billboards, UK, January to March 2019
The Power and Gender (Men) series examines the changing archetype of masculinity, the impact of social conditioning on men's emotional responses, and the characteristics of power when held by men rather than women.
Remember 1967
6 Digital Billboards, UK, 27 July 2017
The Remember 1967 series marks the 50th anniversary of the Sexual Offences Act, which decriminalised, under certain circumstances, sexual relationships between men. The series re-states the demands made by 1960s activists that still warrant action today in the artist's view.
Fires Ancient
Digital Projection, St Paul's Cathedral, UK, 1 to 4 September 2016
Fires Ancient projects fire on to the dome of St Paul's in waves of colour consistent with flame of increasing temperatures (from dull orange to yellow to blue to brilliant white). The artwork marks the 350th anniversary of the Great Fire of London.
Fires Modern
Digital Projection, National Theatre UK, 1 to 4 September 2016
Fires Modern presents 18 histories, or 'metaphorical fires' from the progressive movement as digital projections on to the fly tower of the National Theatre. The series begins with the Lord Mayor's dismissive and inherently misogynist jest that 'the great fire is no threat, a woman could piss it out'.
All Identity Is Constructed
Digital Billboards, UK, 1 to 28 August 2016
All Identity examines the premise that everyone's identity is a construction. Some identities may be less usual than others - the self-realisation of trans people for example - but this artwork conveys the idea that every identity is equally and arbitrarily invented.
Cómo Vivimos / How We Live
Digital Projection / Portraiture, Spain, May 2016
The Cómo Vivimos portrait series conveys the wisdom of the four eldest inhabitants of the Spanish hill town of Fanzara near Valencia. Their insights are presented as digital projections onto the elders' faces creating composite portraits of inner and outer truth.
It Ends Here
Installation, London UK, 10 to 12 July 2014
It Ends Here is an installation of five underground environments examining power inversion and the cyclical nature of abuse and brutality in the French novel Planete Des Singes (Planet of the Apes) by Pierre Boule, and in the Twentieth Century Fox films based on Boule's work.
I Want to Live in a City Where
Projection, National Gallery UK, 5 to 6 July 2006
I Want to Live in a City Where presents a wish-list of liberal policies as digital projections onto the facade of the National Gallery of Great Britain. The series comprises an ambitious, artist-led agenda for civic agitation and renewal.
Security Notice
VDU Monitors, Railway Stations, London UK, 2005
Public information systems are re-programmed so that the standard railway station security message is accompanied by the artist's existential 'security message' evoking the burden of loneliness.
Hunty City
Video, Shoreditch Town Hall London UK, 1 to 12 Mar 2017
Text outlines, performance, info-text, music, found dialogue and internet video clips evoke the UK's LGBT+ language, Polari (a coded language enabling LGBT+ people to express themselves whilst avoiding detection as criminalised homosexuals) and the defiant American drag slang from 1970s New York City drag balls.
Complete Hero
Digital Projection, British Army, London UK, 2009
The Complete Hero series consists of 18 video portraits, combined with text and graphics, created during the artist's residency with the British Army. The artwork provides a progressive and plural definition of heroism through the eyes of military personnel, scientists, philosophers, writers, comedians and performers.
All Men Are Dangerous
Digital Projection, Tate Britain London, February 2006
All Men Are Dangerous was created for Tate Britain against the backdrop of wars in Iraq and Afghanistan, conflicts that were widely held to be colonially motivated and against international law.
The One Irreducible Truth
Digital Billboards, London UK, 2005
In The One Irreducible Truth, the artist paraphrases the renowned American sex researcher Alfred Kinsey who noted that difference in human sexual responses was the only universal constant.
Writing
Modified Till Receipts, Borders Books London, June 2004
Electronic tills at Borders Books are re-programmed by the artist to add an additional text to the bottom of each till receipt. In this way, thousands of public art texts are brought into circulation during the lifespan of the artwork.
Avec Excoffon
Fly-posting, Marseille, France, 2010
To Understand A Thing Fully Is To Be Able to Say Nothing About It reflects on the nature of understanding and knowledge. Also titled 'L'Éloquence du Silence', the artwork implies that silence must inevitably fall when understanding exceeds the expressive capabilities of language.